---
Description
A simple phonebook system. A flat file in .csv format is used to store the contacts. A Flash front-end is used as the user interface. A background .php file is used as an interface between the .csv database and the Flash interface. The user has the ability to add, edit or delete contacts. The listing can be ordered by first or last name in forward or reverse order.
Free Download And Install Procedure
Step1 : Download the files contained within the zip file below.
Download Here (GMcs.zip - 17kb)
Step2 : Extract the contents to a folder/directory that will then be uploaded to your website or server.
Step3 : Upload
Step4 : Browse to the GMcs.htm File to commence use.
Step5 : Delete all default contact entries.
How To Use It - User Guide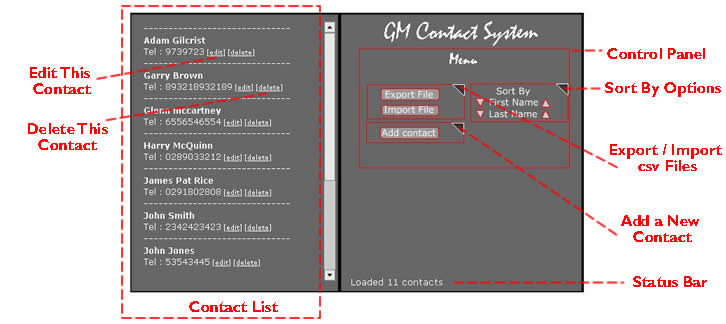 Screen Overview Diagram
How It All Works - Technical Information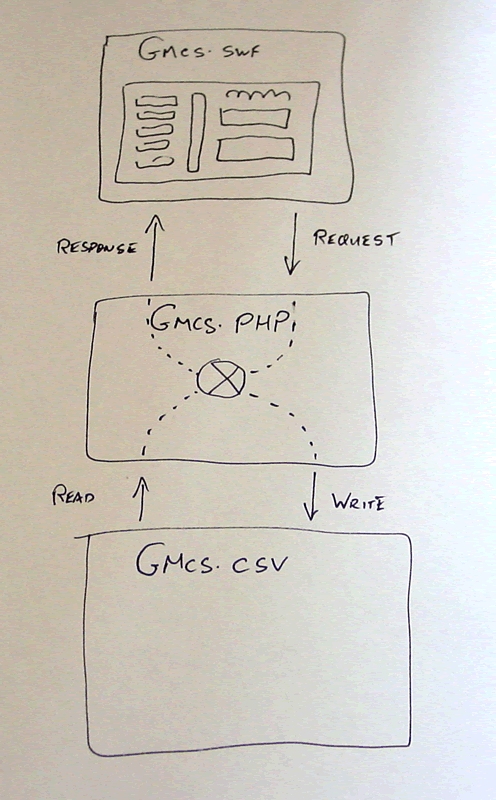 Overview of System
There are three file in the system
(1) - GMcs.swf
Flash file with actionscript. The main reason for using macromedia flash is the 'sharp' appeqrance coupled with a more intactive user interface compared to a plian HTML form. Actionscript is then used to add some code behind to allow data to be sent to and recieved from the .php file.
(2) - GMcs.php
Used as an inferface between GMcs.swf and GMcs.csv. Reasons fpor using .php is its file handling cappbilites , abilty to retivveve parameters passed to it via POST methos and the abilty to output via the echo command. the flash file then listens for this echo to be sent and can then read it.
It has four operation modes or opmodes
| | |
| --- | --- |
| Opmode | Use |
| 11 | read all data from file |
| 12 | add a new record |
| 13 | delete a record |
| 14 | update a record |
See CMcs.php (in text format for easier viewing)
(3) - GMcs.csv

Typical GMcs.csv file contents
The flash Interface simply issues commands to the GMcs.php file that then extracts data from or writes to the csv file. The php file then returns data back to the flash file for display.
Further Uses and Ideas
Store further information such as email addresses or home address.
Search Facility.
Click on email to open up new email with the [default] email client on local machine.