Description
A Bubble Generator. Blow in to your microphone on your computer to produce virtual bubbles. The stronger you blow, the larger the bubbles will be.
You need
A Microphoneconnected to your computer
A lung full of air!
How To Use
Note : If/when this...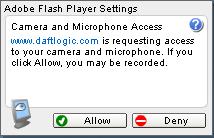 ..icon appears , click

to grant the flash file permissions to use your microphone.
Then blow into your microphone. You show be able to see some correlation of how strong you blow to the rate and size of bubbles than appear on the screen.
Further Uses and Ideas:
Make the Bubbles more realistic looking.
Introduce swaying wind feature.
Change Backgrounds and select randomly or let the user choose.
How it Works:
I will explain once I find out! (or contact us)
Acknowledgements:
http://www.sxc.hu/ - For providing the background image.
Relevant Links
http://www.andieandmike.org/bubblecam-push.stm - Remotely activate a bubble machine and watch the results via webcam in this south Florida garden.
Comments For This Page
worked without a microphone

By mith on 28th October 2013
it wont even let me do it even no i have all the thingz that i was suposed to have it sucked last i tell someone 2 go 2 this website ever agin thanks 4 nothin y did i even try
By leigha on 28th December 2012
it didn't work :(
On 12th March 2012
i love bubbles!!!:)
By daizha on 11th November 2011
i love bubbles!!!:)
By daizha on 11th November 2011
Brilliant idea, well done!
By Rich on 28th March 2011
ii LOVE TiS GaME iTS COOL TaT U GET TO HERE YOUR SELF.,
By Alexus on 11th January 2011
like i love and i get light headed but i feel good aftger im done
On 12th July 2010
bein lightheaded but i LOVE it
On 14th June 2010
Blowing Bubbles is a cool original idea %u2013 keep up the good work!
By Diana on 15th October 2007
My kids enjoyed this. thanks.
By Graham on 29th September 2007
Add your own comment below and let others know what you think: