Text File Watcher
Text File Watcher is a utility that allows you to monitor a text file to see its contents live. As the contents of the file are changed, the viewer inside will automatically update to show them. Therefore you do need need to force any refresh. Text File Watcher will not lock the file being viewed so that it can continue to be modified by other applications.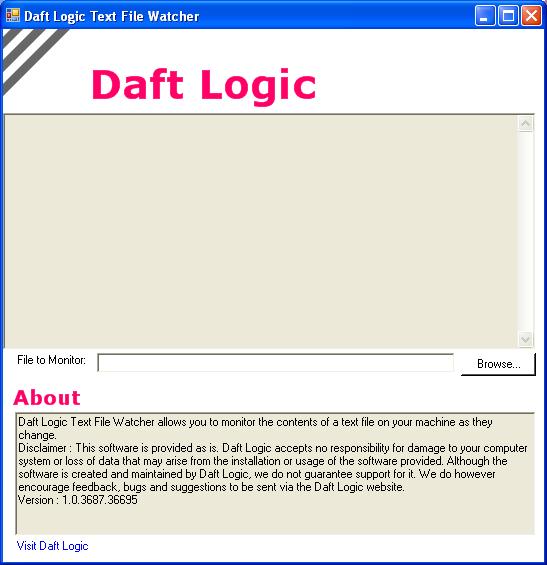 Text File Watcher Screen Shot
Requirements
Microsoft Windows
.Net Framework 3.0 +
Versions
Version 1.0 - Current Version
Download Freeware
Install Procedure
Extract the zip file
Run TextFileWatcher.exe
Further Uses and Ideas
Disclaimer
This software is provided as is. Daft Logic accepts no responsibility for damage to your computer system or loss of data that may arise from the installation or usage of the software provided. Although the software is created and maintained by Daft Logic, we do not guarantee support for it. We do however encourage feedback, bugs and suggestions to be sent via the Daft Logic website.
Comments For This Page
Hi, When you said it didn't work, can you explain in a bit more detail please?
By Daft Logic on 20/02/2014
did not work in win 7 maybe the refresh interval it too long
By g.l. on 20/02/2014
On 16/09/2013. Please explain further. We will try and help...
By Daft Logic on 24/09/2013
Can't figure it out
On 16/09/2013
thnk u for text watcher! great tool!!!
By julius on 11/01/2013
Awesome thank you. Text File Watcher does exactly what I want it to do. As another program I'm running updates a text file the changes to that text file are automatically displayed in Text File Watcher. I couldn't be happier. Thanks again.
On 28/12/2012
Add your own comment below and let others know what you think:
Share This Page
Share this page with others using one of the methods below. Telling others about Daft Logic is good and we appreciate your support!