About Clipboard Format Cleaner
Clipboard Format Cleaner is a software tool that helps remove text formatting when you are copying and pasting using the Windows clipboard. Normally when you copy from sources such as documents or web pages, the text you copy is formatted in such a way that when you paste it in to your destination the formatting comes across with it. In some circumstances it is not necessary for this to happen. Instead it would be preferable to only copy the plain text.
Clipboard Format Cleaner monitors your clipboard and when it detects text being copied, will automatically remove any formatting. Therefore you can continue copy and paste as normal but any text pasted will not contain formatting.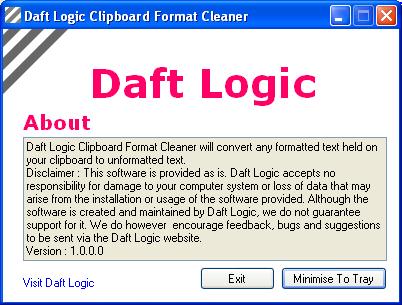 Clipboard Format Cleaner Screen Shot
Requirements
Microsoft Windows
.Net Framework 3.0 +
Versions
Version 1.1 - Added option to temporarily disable the tool to the context menu of the icon on the start bar
Version 1.0 - First Version
Download Freeware
Install Procedure
Extract the zip file
Run ClipboardFormatCleaner.exe
Further Uses and Ideas
Add option to start (minimised) when Windows starts
Remember last Enable/Disable option that was selected in the previous Windows session
Disclaimer
This software is provided as is. Daft Logic accepts no responsibility for damage to your computer system or loss of data that may arise from the installation or usage of the software provided. Although the software is created and maintained by Daft Logic, we do not guarantee support for it. We do however encourage feedback, bugs and suggestions to be sent via the Daft Logic website.
Comments For This Page
Still love you - 2021


On 28th March 2021
Hi. works nicely. If you can add following features, it will be useful to many.
1.. Add a checkbox that lets you select if application automatically starts at windows startup in hidden mode (don't show the About window)
2. Remembers last Enable/Disable option that was selected in the previous Windows session.


By Johan on 14th October 2018
Thanks for this useful program!
Simple and it works perfectly!


By ftm HU on 22nd May 2014
It seems to work perfectly, for my problem - that on occasion my clipboard is taking in only oemtext, and not storing in plain text format. As a result, pasting in some applications & some dialog boxes generates nothing.

ClipBoardFormatCleaner fixes that problem. In fact, even when I exit from the Format Cleaner, the clipboard seems to continue to paste normally again.

How does the cleanup work, in Clipboardformatcleaner? Is it in C#?



By ClipboardWisdomSeeker on 3rd June 2012
Adam, thanks for the suggestion. That option has now been added.


By Daft Logic on 30th July 2010
In the system tray context menu there should be an option to disable/enable - sometimes you want normal clipboard behaviour for a while...


By Adam on 29th July 2010
Add your own comment below and let others know what you think: