Arrow Mouse
While this application is open, you can use a combination of a <Ctrl> and a cursor key on your keyboard to control your mouse. You can also perform a <Ctrl> + <space> to simulate a left mouse button click.
About Arrow Mouse
This can be used as a short fix for a PC without a mouse.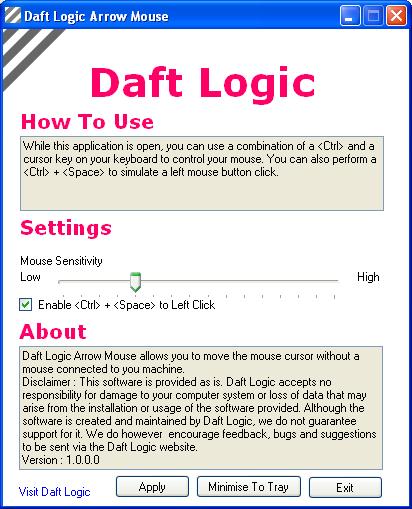 Password Generator Screen Shot
Requirements
Microsoft Windows
.Net Framework 3.5
Versions
Version 1.0 - Current Version
Download Freeware
Install Procedure
Run ArrowMouse.msi
Go to Start > All Programs > Daft Logic and click on "Arrow Mouse"
Further Uses and Ideas
Disclaimer
This software is provided as is. Daft Logic accepts no responsibility for damage to your computer system or loss of data that may arise from the installation or usage of the software provided. Although the software is created and maintained by Daft Logic, we do not guarantee support for it. We do however encourage feedback, bugs and suggestions to be sent via the Daft Logic website.