Distance Calculator
You can use this distance calculator to find out the distance between two or more points anywhere on the earth. In other words, the distance between A and B. Click once on the map to place the first marker and then click again to position the second marker. The distance between the points will then be displayed. You can also build up a series of locations to find a total distance.
Due to significant price increases we can no longer offer all functionally. You may find some functions are no longer available or have limitations in use
Load The Map
Please paste in the list of coordinates to add to your route in the text box below:
An important feature of this distance calculator tool is that it is "as the crow flies", so traveling in real life will normally involve larger distances, but this may also help those who need to measure off-road distances.
Want to save your route? Try the Advanced Google Maps Distance Calculator
How To Use
Zoom and drag the map to find the location of marker 1
Click to place marker 1.
Zoom and drag the map to find the location of marker 2.
Click to place marker 2.
The distance will be calculated then displayed below the map in miles or kilometers. You can change between miles or km at any time
Add as many points as required and the distance will build up.
You can also drag and drop markers after they have been put on the map
To share your route and distance calculation use the option [Generate Link For This Route]. You can then copy the link generated and send this via Twitter or Facebook.
Note
All distances are estimations so Daft Logic does not accept any responsibility that may arise when the value reported is incorrect.
You can move the markers after they have been positioned so you can modify you route on the fly and see how the distance will be affected.
Options
Click [Clear Last] to undo the last marker placed
Click [Zoom To Fit] to zoom the map around all markers
Click [Clear Map] to erase all markers and start again
Use the Quick Find text box to quickly relocate the map
You can choose between miles and kilometers (km) for the Total Distance readout
Click [Show Elevation] to get a chart showing the elevation of your route
How it Works
Clearly you, the user inputs two 'points' that are used to calculate the distance. Calculating the "As the Crow Flies" distance is a matter of using Great Circle formula. Then the main problem is converting the Google Map unit to miles and kilometers.
The map will also automatically save your route in your temporary internet cookies so that you can return and see the route as you last left it. If you ever need to start from scratch then use the [Clear Map] button.
Benchmark Tests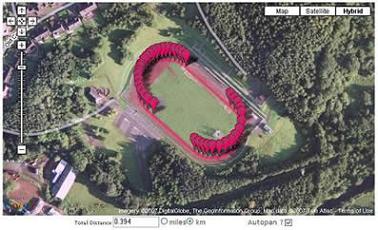 Map showing the Mary Peters Track in South Belfast. The reading shows 0.394km which is clearly a reasonable measurement for an athletics track.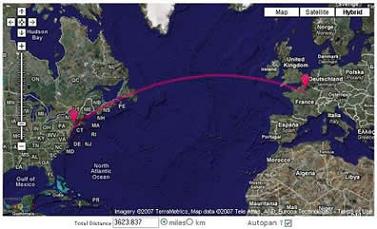 Map showing the estimated distance between New York and Paris. All references that can be found suggest that this is an accurate measurement.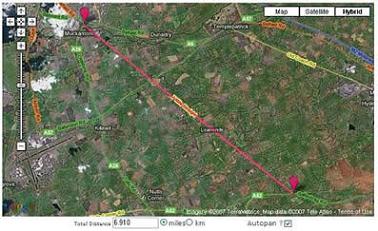 Map showing the Seven Mile Straight in County Antrim, Northern Ireland. This shows a reading of 6.910 miles.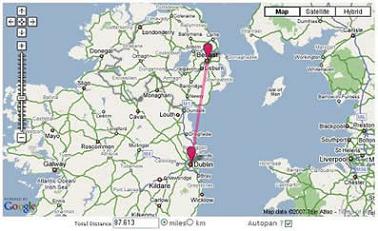 Map showing the distance between Belfast and Dublin. As far as I can see this is an accurate estimate (if there is such a thing). This trip would be approximately 100 miles by road so the proverbial crow would have less distance to travel.
Relevant Links
Further Uses and Ideas
Show difference in elevation between markers
Export a list of all waypoints and show the distance between each
Version History
Version
Date
Description of Updates
1.0
29/12/2005
The Beginning
2.0
19/01/2006
Stop post back between clicks
Calculate Mid Point
Zoom to fit feature
More than one marker as running total
3.0
15/06/2007
Move to API v2
Great Circle display and distance calculation
Option to resize map height
3.1
25/09/2007
Added print map option
3.2
01/10/2007
Added Quick Find
4.0
20/01/2008
Added Scroll Wheel Zoom in and out
Complete conversion to API v2
Better Zoom to Fit Functionality
Added crosshairs curser
4.1
21/02/2008
Removed Scroll Wheel Zoom in and out
Added marker drag and drop functionality
Removed Print Option (Ctrl+Print Screen works better)
4.2
10/06/2008
Added Nautical Miles option
4.3
20/10/2008
Added drop down map type option
4.4
17/12/2008
Map saves last position for when you next visit
4.5
04/01/2009
Fixed autopan issue when map is resized
4.6
28/09/2009
Removed Quick Find
Added Google Search bar
4.7
06/10/2009
Brought Back Quick Find!
Removed Google Search bar!
Added Route Autosave via cookies
Added Marker tooltip showing marker id and lat/lng
Added Feet measurement
Added Metres measurement
4.8
08/10/2009
Google Search can now be enabled by a check box
More settings are now saved such as toggle markers, Google Search and Map Type
5.0
31/07/2010
Implemented Google Maps Javascript API V3
Google Search bar at bottom left is not yet available. sorry!
Removed show mid point button
Uses new cookie so any previous systems/settings on your machine will be erased! sorry!
Please report any issues or bugs!
5.1
02/08/2010
Fixed autopan issue when map is resized
5.2
09/08/2010
Updated Quick Find. Now places marker at location
5.3
31/07/2010
Updated Quick Find. Now adds a distance marker upon finding a result unless the user opt's out of this
Updated Quick Find. Now allows enter/return to be hit to cause the search. No need to click the Search button
Updated Quick Find. Now pre-selects text after a search is complete to allow rapid input of multiple locations
Updated Quick Find. If you perform an unattached search (not a distance marker), the search result marker can be easily removed from the map by clicking on that marker
5.4
05/02/2012
Updated Quick Find. Now zooms in to find the location
5.5
14/02/2012
Fixed issue where a marker that had been repositioned retained its original lat/lng in the text that appears during hover over
5.6
15/02/2012
Added new upload coordinates function
5.7
10/11/2013
Removed Google Local Search API (Deprecated)
5.8
22/01/2014
New option added to allow you to share your distance calculator route on Twitter, Facebook or email
5.9
25/01/2014
New option added to show the elevation of your route on a bar chart
5.10
18/11/2015
Implemented a mouseover event so when you hover over the elevation chart, a marker on the map highlights the location
5.11
30/12/2015
Its now possible add a marker to the route midway along the route. You can also delete a marker by right clicking on the dot below the marker
5.12
04/04/2016
Updates to print formatting
5.13
09/06/2016
Added yards units of distance measurement
5.14
10/01/2017
The marker will display the distance up to that leg on the route when you hover over it
5.15
23/02/2017
New option to upload GPX files
5.16
21/09/2017
Elevation units changed to feet
5.17
21/02/2018
Location displayed when you hover over a marker now has fewer decimal places
Comments For This Page
This WAS a great site. I used it on daily basis. I tried to use it today, and it is a mess. I type in an address, and it takes me wherever it feels like going.
On 17th July 2018
"Cannot measure, sidewalks nor streets anymore. Hopefully it's fixed soon. " - can you detail why please? Where does it "fall down". We will take all comments on board and will look to find solutions.
By Daft Logic on 17th July 2018
"Why is the map not showing the United States ' - can you give more detail please? You do have to now click [Load The Map] at the beginning to get it to appear.
By Daft Logic on 17th July 2018
"Address search no longer works:' - can you confirm if you mean it does nothing OR the accuracy/performance isn't as good as the old (now too expensive to offer for free) search tool.
By Daft Logic on 17th July 2018
Address search no longer works: you have to go to Google maps on a seperate tab, right-click what's here, copy the Latitude and Longitude, paste into upload co-ordinates.
On 16th July 2018
Cannot measure, sidewalks nor streets anymore. Hopefully it's fixed soon.
On 16th July 2018
Why is the map not showing the United States and why can I not measure a building anymore?
On 16th July 2018
Am I no longer able to enter a zip code to find a location?
By Riley on 16th July 2018
CLICCANDO IN ALTO A SINISTRA C'E' LA FUNZIONE SATELLITE (porta prima a pagina intera)
On 28th June 2018
I'm a bit confused-- where is "the answer" to "how far from town A to town B?" I tracked the road for one route expecting to be able to compare that with a different route to the same destination. Can't find it. Something that can be an issue on certain sites is I'm using a tablet; that has never been an issue using DL, on this or my old ipad. Any thoughts on what i might be doing wrong?
By Chuey on 13th June 2018
Very useful
On 5th June 2018
Thumb's up. clean and simple interface deliver an intuitive, but yet complete, user experience (also on a mobile device)
By Alberto on 21st April 2018
cant seem to get the hang of elevations
On 11th April 2018
aj, there is an option to toggle the view at the top left of the map.
By Daft Logic on 2nd April 2018
Can I see satellite view of map?
By aj on 31st March 2018
Thanks so much . This programs really help me to find the distance between repeater sites . Have been using its for several years now. Again thanks for for effort

Cleve Cannon
wb4oll
On 12th March 2018
A great app I have been using for 8 years or so
By Aghis, Athens, Greece on 6th March 2018
thank you sooo much!!!
i use this all the time for running/biking and just wanted to say that you're doing great work here
By joey zeloof on 4th March 2018
thanks a ton for easing my problem.
By Random on 26th February 2018
Thank you for creating this. It really aids in my weight loss regimen to show how far I've walked or run.
On 16th February 2018
Thank you for doing this, I use it almost everyday!
On 5th February 2018
SD, sorry this is not possible. The maps on this page do update but there is a lag with the Google Maps site.
By Daft Logic on 23rd January 2018
Is there anyway to link your maps to Googles so that the maps are more up to date?
By SD on 23rd January 2018
thanks so much for your effort - this is really helpful!
love from germany
On 19th January 2018
Your Google Satellite is out of date, comnpare south Guildford Werstern Australia with Googles...completely Different.

On 17th January 2018
Searching doesn't work (Searched for Germany and Berlin, and neither were found.
By Krzd on 15th January 2018
very good!

By Massimo on 13th January 2018
You're absolute legends! Many thanks.
By Hagbard Celine on 13th December 2017
Hi Stoney, you can change the distance output to feet using the drop down beside the distance measurement.
By Daft Logic on 11th December 2017
Please put an option to convert distances into feet. That would make this already great app into the best maps app ever!
By Stoney on 8th December 2017
30 out of 2108 comments shown. See all comments.
Add your own comment below and let others know what you think: