Distance Calculator
You can use this distance calculator to find out the distance between two or more points anywhere on the earth. In other words, the distance between A and B. Click once on the map to place the first marker and then click again to position the second marker. The distance between the points will then be displayed. You can also build up a series of locations to find a total distance.
Due to significant price increases we can no longer offer all functionally. You may find some functions are no longer available or have limitations in use
Load The Map
Please paste in the list of coordinates to add to your route in the text box below:
An important feature of this distance calculator tool is that it is "as the crow flies", so traveling in real life will normally involve larger distances, but this may also help those who need to measure off-road distances.
Want to save your route? Try the Advanced Google Maps Distance Calculator
How To Use
Zoom and drag the map to find the location of marker 1
Click to place marker 1.
Zoom and drag the map to find the location of marker 2.
Click to place marker 2.
The distance will be calculated then displayed below the map in miles or kilometers. You can change between miles or km at any time
Add as many points as required and the distance will build up.
You can also drag and drop markers after they have been put on the map
To share your route and distance calculation use the option [Generate Link For This Route]. You can then copy the link generated and send this via Twitter or Facebook.
Note
All distances are estimations so Daft Logic does not accept any responsibility that may arise when the value reported is incorrect.
You can move the markers after they have been positioned so you can modify you route on the fly and see how the distance will be affected.
Options
Click [Clear Last] to undo the last marker placed
Click [Zoom To Fit] to zoom the map around all markers
Click [Clear Map] to erase all markers and start again
Use the Quick Find text box to quickly relocate the map
You can choose between miles and kilometers (km) for the Total Distance readout
Click [Show Elevation] to get a chart showing the elevation of your route
How it Works
Clearly you, the user inputs two 'points' that are used to calculate the distance. Calculating the "As the Crow Flies" distance is a matter of using Great Circle formula. Then the main problem is converting the Google Map unit to miles and kilometers.
The map will also automatically save your route in your temporary internet cookies so that you can return and see the route as you last left it. If you ever need to start from scratch then use the [Clear Map] button.
Benchmark Tests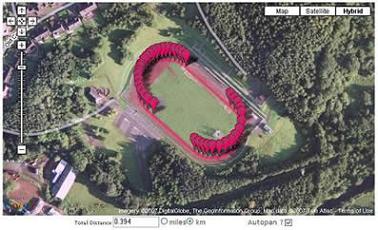 Map showing the Mary Peters Track in South Belfast. The reading shows 0.394km which is clearly a reasonable measurement for an athletics track.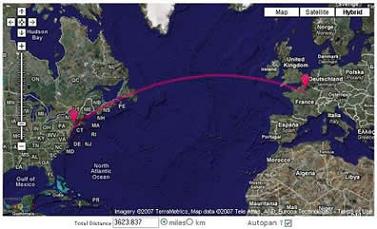 Map showing the estimated distance between New York and Paris. All references that can be found suggest that this is an accurate measurement.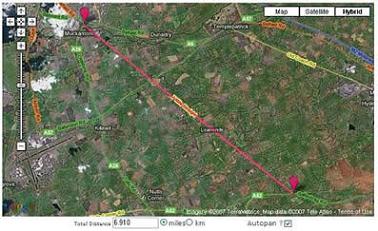 Map showing the Seven Mile Straight in County Antrim, Northern Ireland. This shows a reading of 6.910 miles.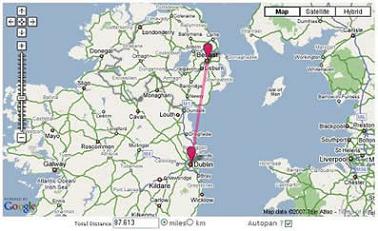 Map showing the distance between Belfast and Dublin. As far as I can see this is an accurate estimate (if there is such a thing). This trip would be approximately 100 miles by road so the proverbial crow would have less distance to travel.
Relevant Links
Further Uses and Ideas
Remember auto-pan setting between sessions
Show difference in elevation between markers
Export a list of all waypoints and show the distance between each
Version History
Version
Date
Description of Updates
1.0
29/12/2005
The Beginning
2.0
19/01/2006
Stop post back between clicks
Calculate Mid Point
Zoom to fit feature
More than one marker as running total
3.0
15/06/2007
Move to API v2
Great Circle display and distance calculation
Option to resize map height
3.1
25/09/2007
Added print map option
3.2
01/10/2007
Added Quick Find
4.0
20/01/2008
Added Scroll Wheel Zoom in and out
Complete conversion to API v2
Better Zoom to Fit Functionality
Added crosshairs curser
4.1
21/02/2008
Removed Scroll Wheel Zoom in and out
Added marker drag and drop functionality
Removed Print Option (Ctrl+Print Screen works better)
4.2
10/06/2008
Added Nautical Miles option
4.3
20/10/2008
Added drop down map type option
4.4
17/12/2008
Map saves last position for when you next visit
4.5
04/01/2009
Fixed autopan issue when map is resized
4.6
28/09/2009
Removed Quick Find
Added Google Search bar
4.7
06/10/2009
Brought Back Quick Find!
Removed Google Search bar!
Added Route Autosave via cookies
Added Marker tooltip showing marker id and lat/lng
Added Feet measurement
Added Metres measurement
4.8
08/10/2009
Google Search can now be enabled by a check box
More settings are now saved such as toggle markers, Google Search and Map Type
5.0
31/07/2010
Implemented Google Maps Javascript API V3
Google Search bar at bottom left is not yet available. sorry!
Removed show mid point button
Uses new cookie so any previous systems/settings on your machine will be erased! sorry!
Please report any issues or bugs!
5.1
02/08/2010
Fixed autopan issue when map is resized
5.2
09/08/2010
Updated Quick Find. Now places marker at location
5.3
31/07/2010
Updated Quick Find. Now adds a distance marker upon finding a result unless the user opt's out of this
Updated Quick Find. Now allows enter/return to be hit to cause the search. No need to click the Search button
Updated Quick Find. Now pre-selects text after a search is complete to allow rapid input of multiple locations
Updated Quick Find. If you perform an unattached search (not a distance marker), the search result marker can be easily removed from the map by clicking on that marker
5.4
05/02/2012
Updated Quick Find. Now zooms in to find the location
5.5
14/02/2012
Fixed issue where a marker that had been repositioned retained its original lat/lng in the text that appears during hover over
5.6
15/02/2012
Added new upload coordinates function
5.7
10/11/2013
Removed Google Local Search API (Deprecated)
5.8
22/01/2014
New option added to allow you to share your distance calculator route on Twitter, Facebook or email
5.9
25/01/2014
New option added to show the elevation of your route on a bar chart
5.10
18/11/2015
Implemented a mouseover event so when you hover over the elevation chart, a marker on the map highlights the location
5.11
30/12/2015
Its now possible add a marker to the route midway along the route. You can also delete a marker by right clicking on the dot below the marker
5.12
04/04/2016
Updates to print formatting
5.13
09/06/2016
Added yards units of distance measurement
5.14
10/01/2017
The marker will display the distance up to that leg on the route when you hover over it
5.15
23/02/2017
New option to upload GPX files
5.16
21/09/2017
Elevation units changed to feet
5.17
21/02/2018
Location displayed when you hover over a marker now has fewer decimal places
5.18
11/08/2018
Google Maps search removed due to costs. Replaced with custom search tool
Comments For This Page
Would love to allow ads for your site. You should earn for your efforts. Sadly, sticking an ad between the map and the distance counter, renders this map useless to me. move the ad to above the map or below the distance readout and we are gold.
By Michael on 14th November 2020
Super great tool for calculating a running distance.
On 5th November 2020
What is the distance between -9 and 5 on a number line? *

On 24th August 2020
I am grateful that this distance calculator exists. I enjoy mapping out new routes for my exercise routine. Thank you for creating it and for the upkeep!
By Zoe Morosini on 4th August 2020
Very easy and useful tool, thanks.
By godfrey b. on 25th July 2020
Use to love this tool until you added all the commercial bisiness locations. Now it is almost impossible to make this work anymore using markers with out clicking on a business, then when you try to close the business pop up it lays another toggle marker where you don%u2019t need one. News flash for you, NO ONE uses this app to search for a place to eat lunch or buy flowers. They use it to measure distances mainly for outdoor pursuits!
By Derek on 3rd July 2020
Distance between middle and lower musqjuodiok harbor

On 22nd June 2020
I've been using this tool to gauge point-to-point links for Wi-Fi gear for the last decade. Has always been spot-on for hundreds of links and thousands of satisfied customers. If you're ever in the Coachella Valley and need gigabit Wi-Fi, let me know and I would be glad to hook you up!
By Bobby White on 13th May 2020
thanks! this is a super-helpful tool.
On 12th April 2020
why just why i wanted to do some easy calculations but this turned into a fiasco of different thing
On 31st March 2020
i have a fitbit
By chad champion on 15th March 2020
Trash
By Jaxon Rumbaugh on 3rd February 2020
This tool is infallible for Real Estate brokers and all the people involved in plotting land.
Your greatness doesn´t stop at the awesomeness of the tool but in the spirit that made it available for the layman, like me.
Thank you so much!
By Henry, Mexico on 8th December 2019
I use this awesome website for tracking the path of ocean swells traveling from a storm to the coast. Would you consider making a similar app for offline use? If not, can you recommend an app that has similar functionality as your website? Thanks.
By Greg on 20th November 2019
03946910 coordinates
On 25th October 2019
Thank you for this great free tool, I've used it every time I map out a new kayak or canoe route.

Plenty of people complaining about something that they haven't paid a dime for, you need to check that entitlement. Pretty easy to find any given location without a search if you have half a brain and know basic geography
By Trevor on 14th March 2019
Hi Denzil, there are quite a lot of users using this free resource as normal. It seems the issue you have is specific to your setup in some way. Can you try a different web browser or a different machine to see if it works there?
By Daft Logic on 12th March 2019
it sure is a shame to see such an excellent site go down so fast for whatever reason. there must be a lot of disappointed users out there that feel the same way as I do.
By denzil on 12th March 2019
whatever happened to this site which I have used for many years. now all I get is a blank screen when I call up the map. it is so sad to have the functionality of this site.
By denzil on 10th March 2019
I clicked the 'load the map" button but I still get a blank map area. I am not sure what to do to correct this situation
By denzil on 17th February 2019
denzil, you need to click the [Load The Map] button] to start using it. Can you confirm you click the button first?
By Daft Logic on 10th February 2019
I have used this site for years without any problems. However, of late the map does not show up on the screen so the whole program has become redundant, as far as I am concerned. Is there anyway you could resolve this for me. Thanks and I look forward for a solution.
By denzil on 9th February 2019
Yo. Bro. Boi. add some detail. bye yo
By nun yu on 9th January 2019
The following Zip code is showing somewhere in the middle of the Atlantic Ocean however, it is a Zip Code for White Rock, NM. 87547.


By Tiffany on 2nd December 2018
I've been using this site for many years and love it. So simple and easy to use!
Thank you!
By Dave K on 16th November 2018
This really helped me I'm Keliah Gordon and I am 13 years old
By Keliah Gordon on 3rd October 2018
Still does everything I need, great site. F11 and Ctrl sorts the small window issue
By Kip on 19th September 2018
Hello! Do you take requests? I would love it if you would set it to remember the auto-pan setting.

I'd like to go a step further, and suggest that auto-pan should default to off??!! Personally I find that a) it is disorienting to have the map move on me, and b) once place a marker, it's basically a guarantee that that location is the one location on earth that you are not going to want to be in the middle of your view anymore!
On 2nd September 2018
I use this for getting distances for new holes on disc golf courses we take care of. It's surprisingly accurate. Thanks!
On 22nd August 2018
Fantastic site for plotting runs/distances for routes.

Always use it, and the lack of address searching hasn't stopped this being one of most helpful free tools out there!
On 17th August 2018
30 out of 2158 comments shown. See all comments.
Add your own comment below and let others know what you think: