After receiving the BrewDog Punk IPA Beer Making Kit as a gift, I thought I would document my thoughts, mistakes, lessons and (hopefully) comments from tasting the final product.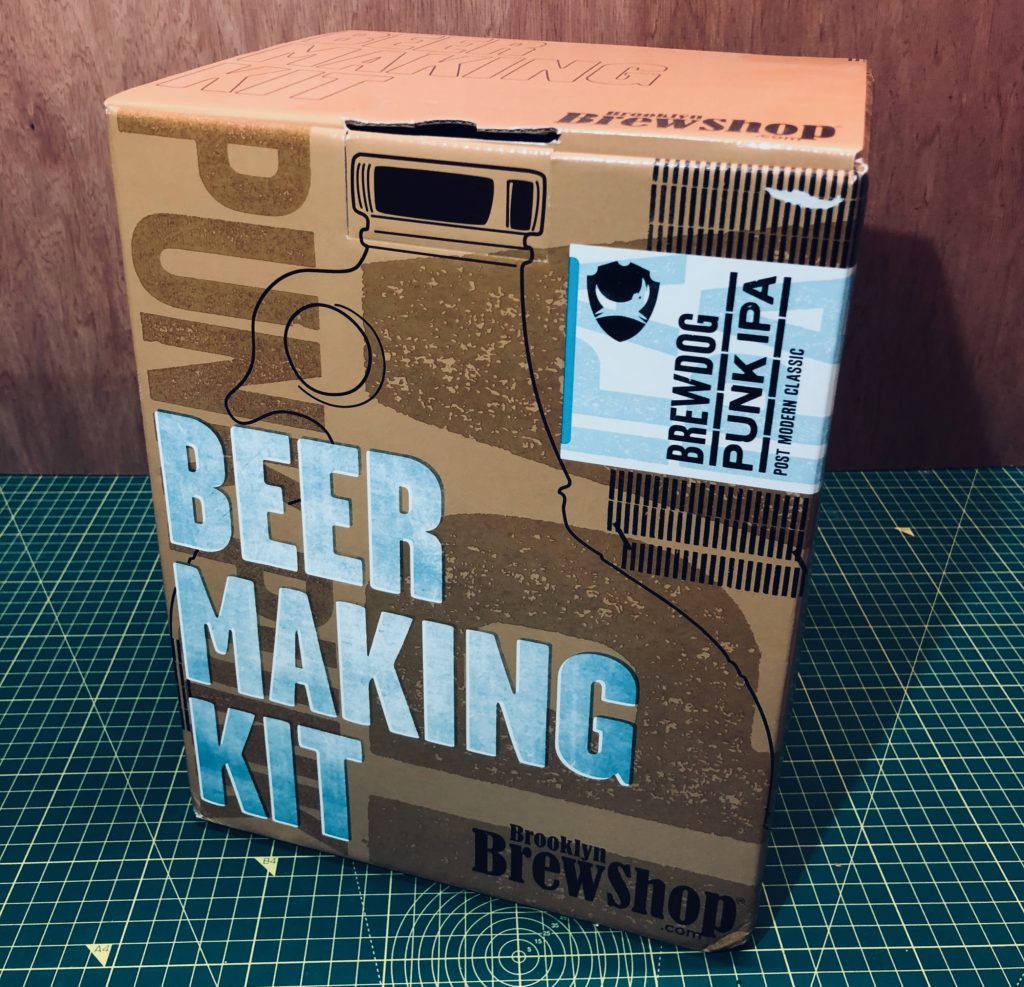 This is my first experience home-brewing so this is not an expert guide. Instead, I hope it will highlight basic tips that a novice can take on board to help them steer their good ship "Home Brew" through the perilous waters of the Sea of Fermentation
This guide is was written before, during and after the brewing. Any advice based on hindsight will be highlighted as such.
In the Beginning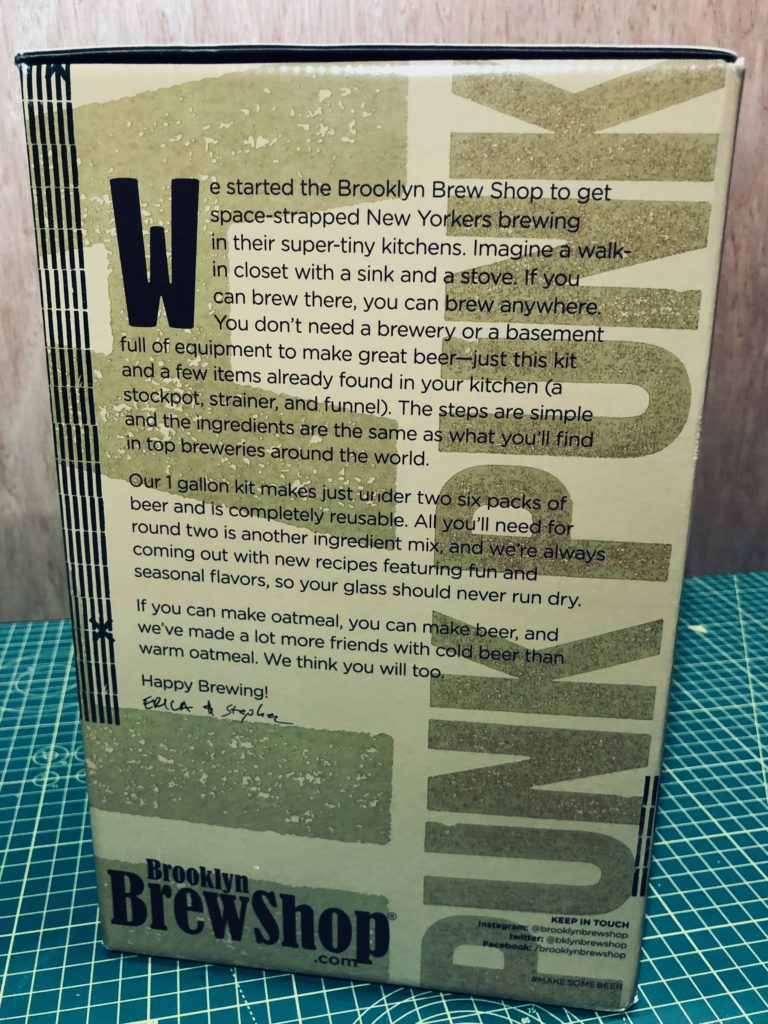 Preparation – Read the Instructions
The instructions are something that can't be avoided…its part and parcel of this 'brewing experience'. The box itself makes it seem easy enough…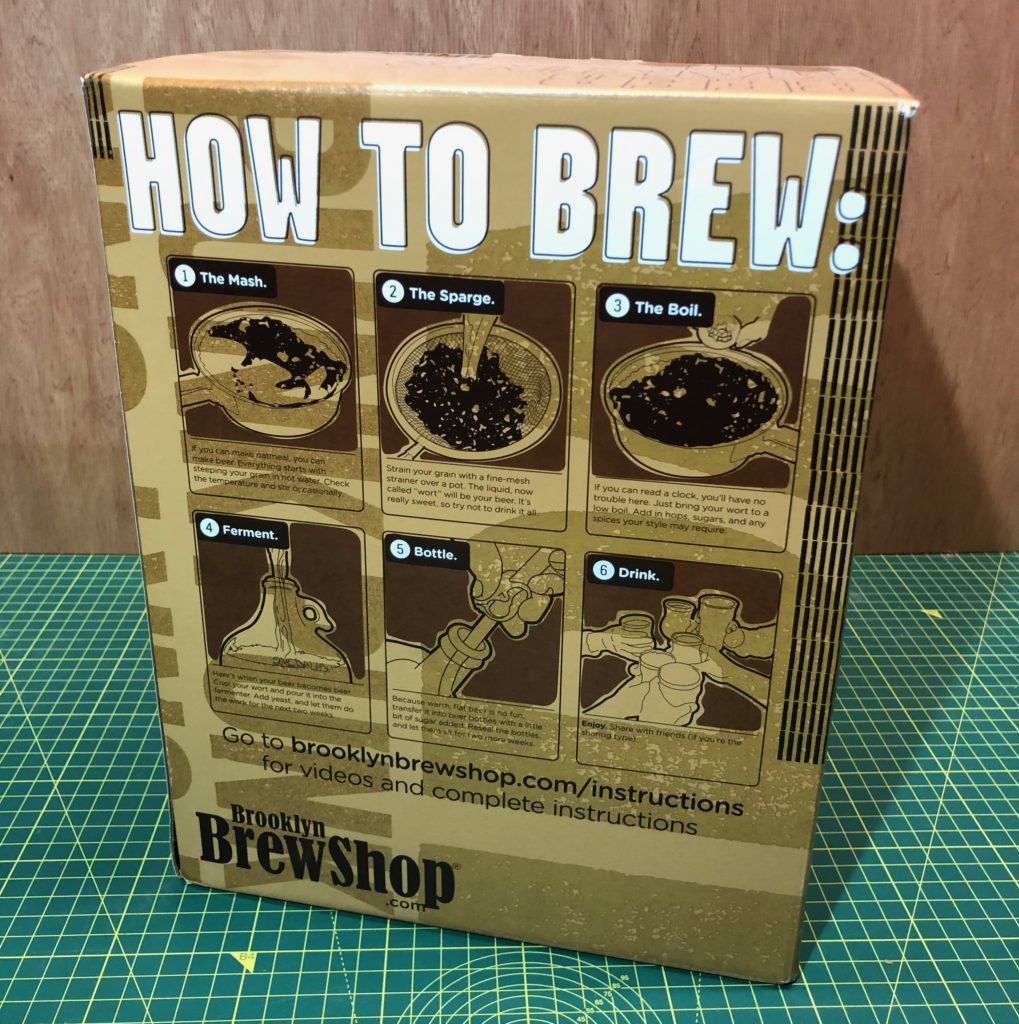 Box Opening
Having a look inside: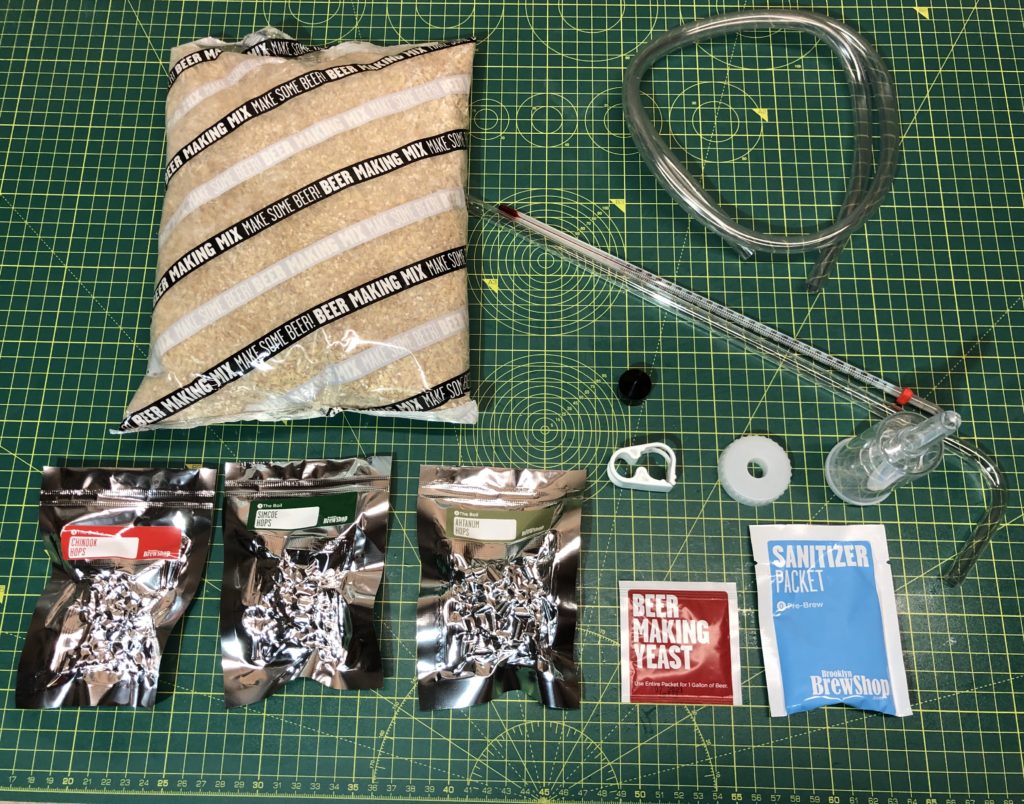 …and also the Glass Fermenter…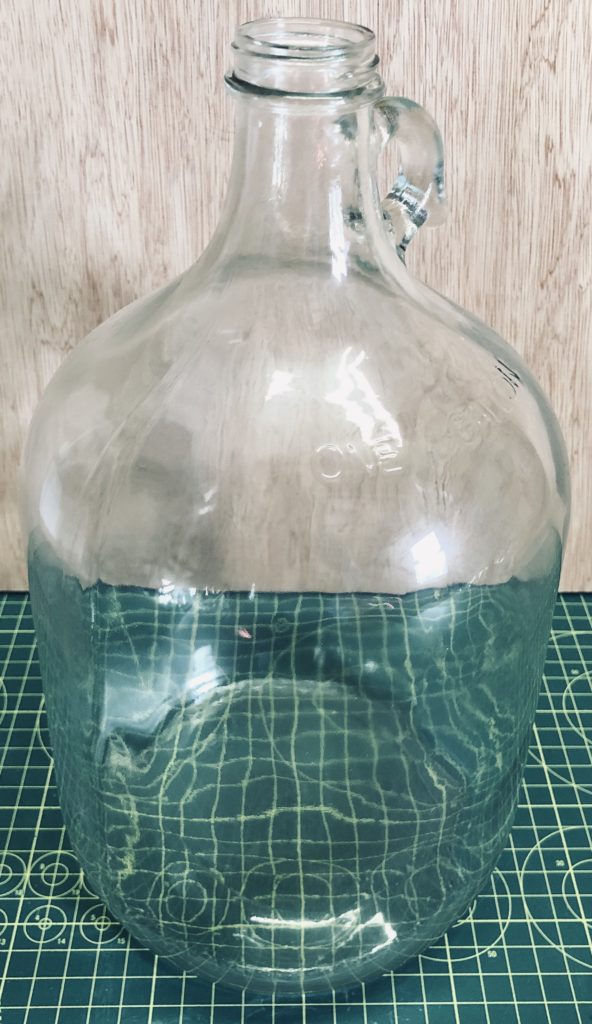 Preparation – Extra Purchases
After a scan over the instructions, its clear there are a number of extra, yet apparently optional bits of kit to buy. I do wonder how the New Yorkers are able to store these extras in their super-tiny kitchens. An obvious thought was how optional are these? Is this as bad as attending a yoga class without a yoga mat?
There are 3 items I decided to buy for the brewing and also some bottles:
(1) Stock Pot 10L (OUMBÄRLIG)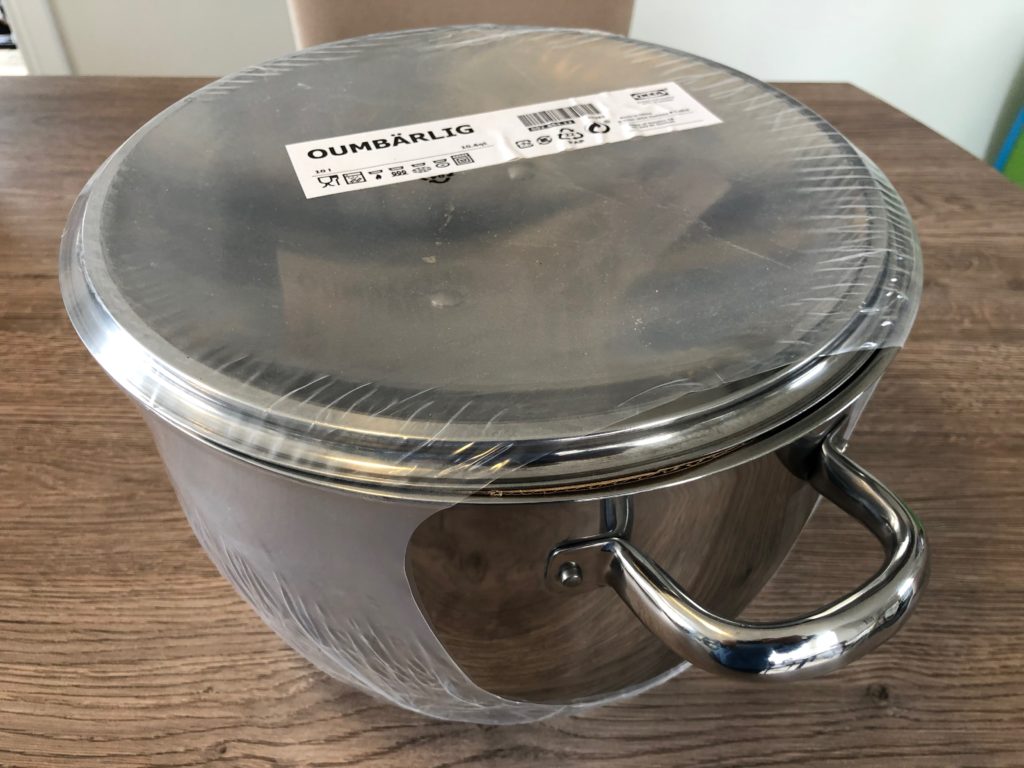 IKEA. Price: £22
https://www.ikea.com/gb/en/p/oumbaerlig-stockpot-with-lid-00286413/
(2) Funnel with Screen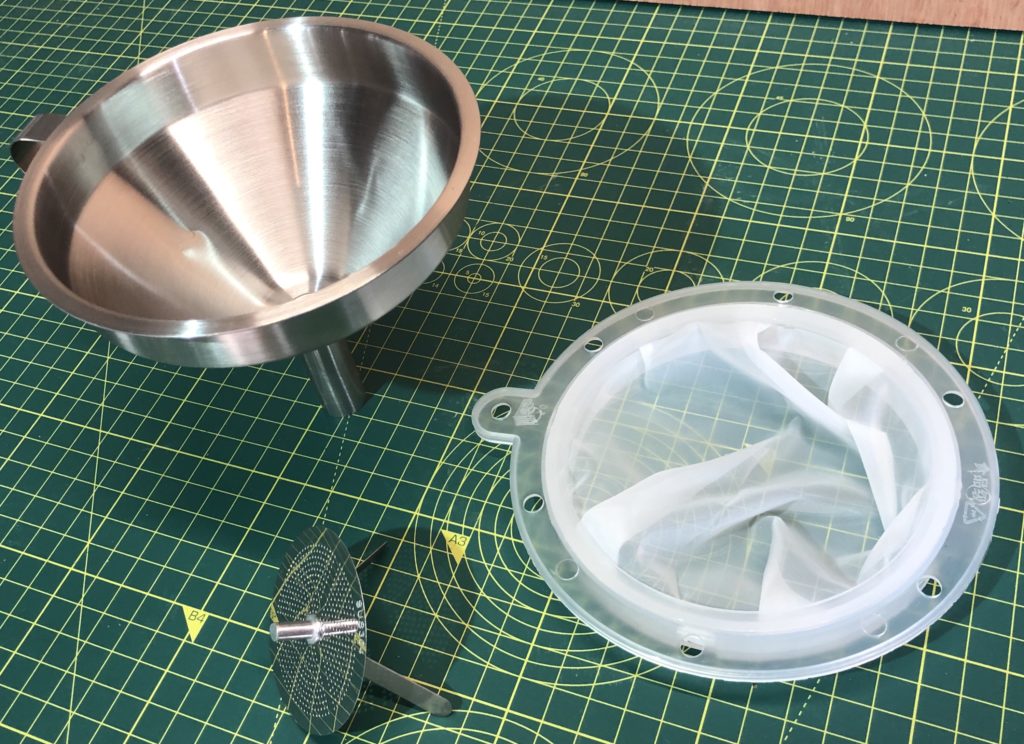 Amazon. Price: £9.99
https://www.amazon.co.uk/dp/B07XRS54B3
(3) Fine Mesh Strainer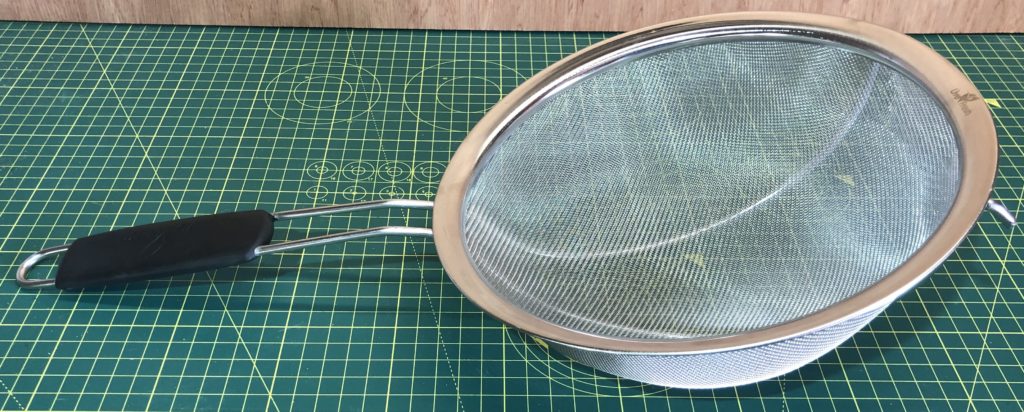 Amazon. Price: £12.97
https://www.amazon.co.uk/dp/B074539PSF
Also, (4) – Bottle with stopper, clear glass, 0.5 l
IKEA. £1 each, X6
https://www.ikea.com/gb/en/p/korken-bottle-with-stopper-clear-glass-20322472/
Preparation – Getting ahead of One's Self
Sense would say now is the perfect time to start planning when, how and with whom this delicious "golden classic, packed with new world hops, bursts of caramel, tropical fruit notes and a spiky, bitter finish." should be shared.However time for some hard work…
Pre-Brew: Sanitize
Its important to make sure all equipment to be used is clean and sterile.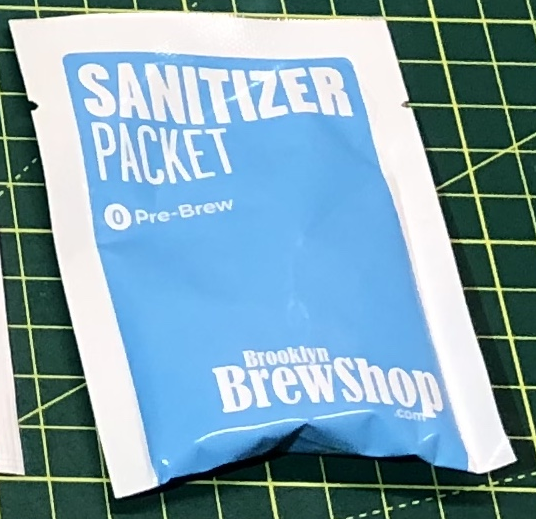 There is a packet of "sanitizer" included in the pack. This is a powder that needs to be dissolved in water.
The aim here is to sanitizise all tools and equipment that will be in contact with the beer ingredients. So get a big container such as the pot you are about to use, mix some in with water and dip all tools and equipment in before air-drying on paper towels.
That wasn't too difficult. So far, so good.
The Mash
In short, heat some water, throw in the grain, and then try to keep it within a temperature range for an hour. First, add 2.4 litres of water to a large pot and heat it up. Get it to 71°C. You will need to place the thermometer provided in the pot. It seems better to balance/hold it somehow so its bulb is mid-water rather than touching the bottom.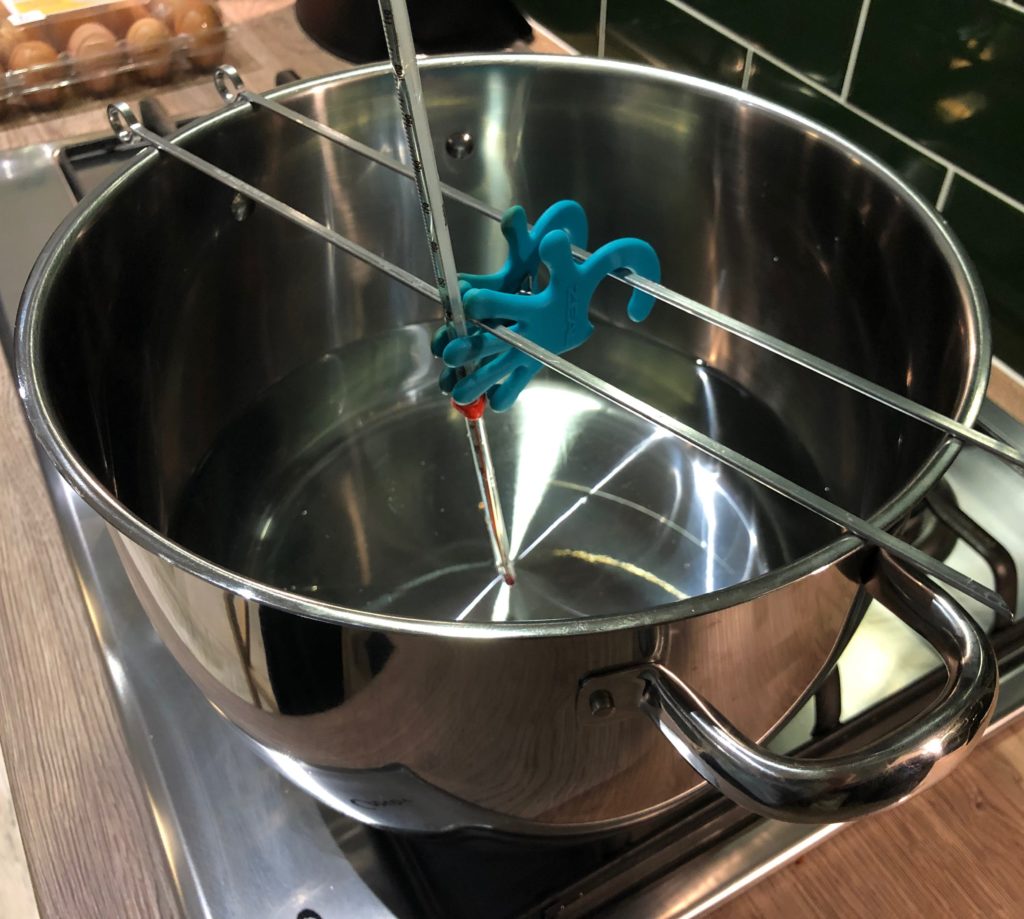 Once the water is at 71°C, pour in the grain. All of it!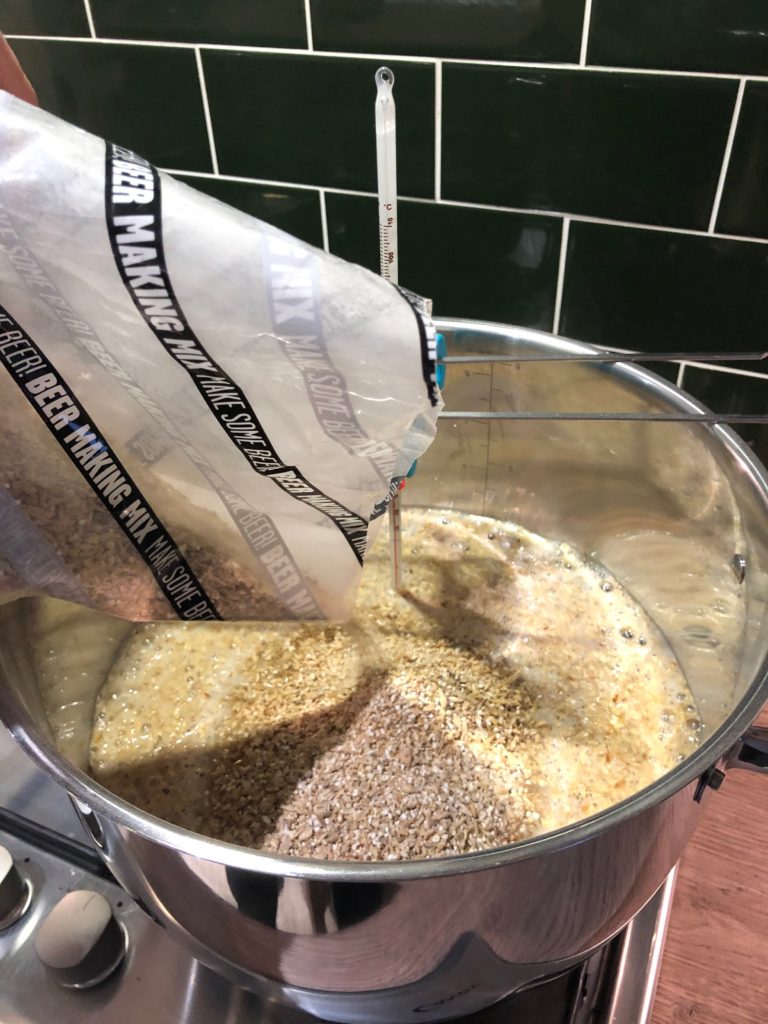 Give it a good slow stir. Then aim to get the temperature to 65°C and let cook for 60mins. Keep stirring. The temperature measured might fluctuate if you get a hot spot or clod spot, so either stir often or test the temperature at different locations.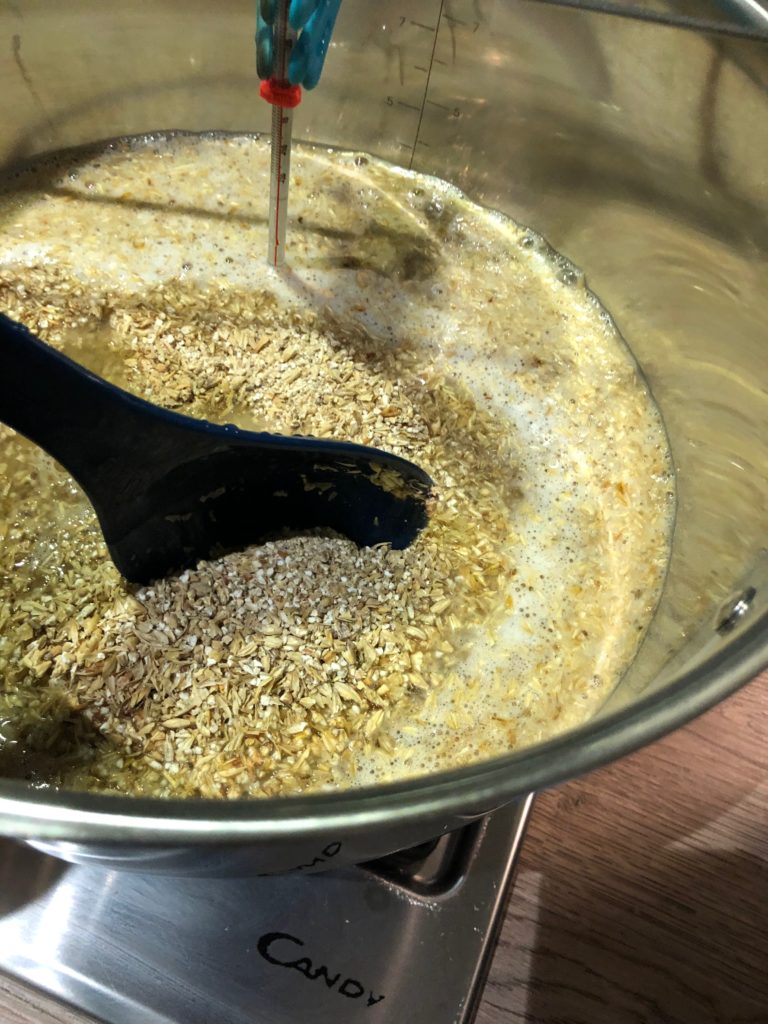 After 60 mins, add more heat and get it up to 77°C. Give it a good stir then take it off the heat.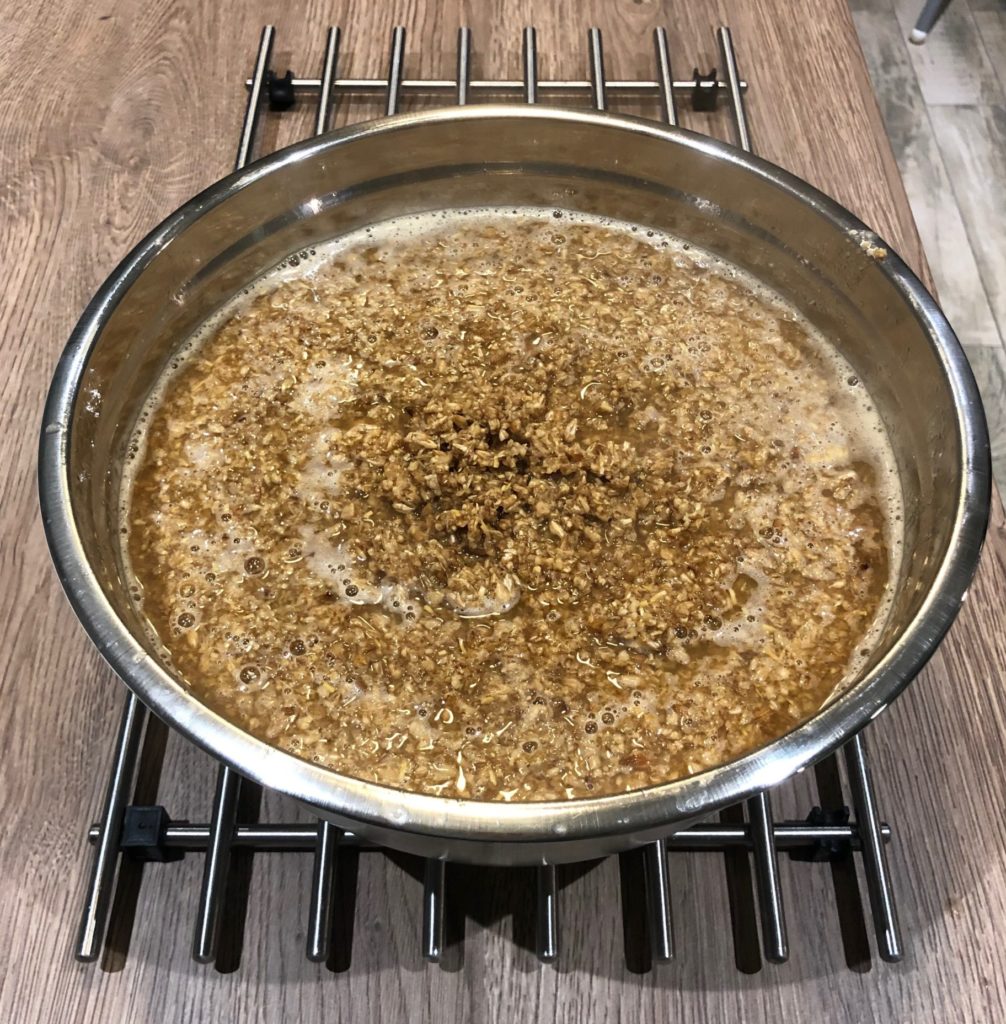 The Sparge
The Sparge involves drawing out all those sugars and filtering out (most of the) grain. You want to use a filter and 4.25 litres of water heated to 77°C to extract the sugar out. Use a second pot (if possible) to catch the extracted liquid. Pass it though the filter twice. Try to avoid dropping any extra grain in.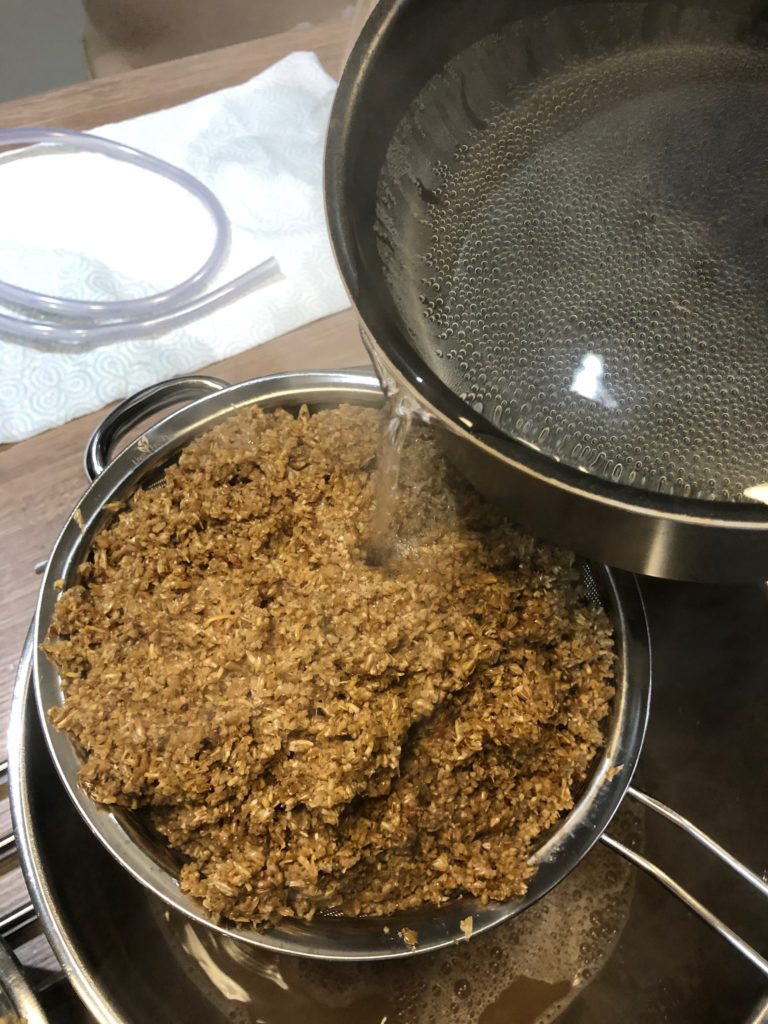 The Boil
In short boil the extracted liquid for an hour and add the various hops:
Get the boil underway and heat to the point where some foaming occurs, but not much more.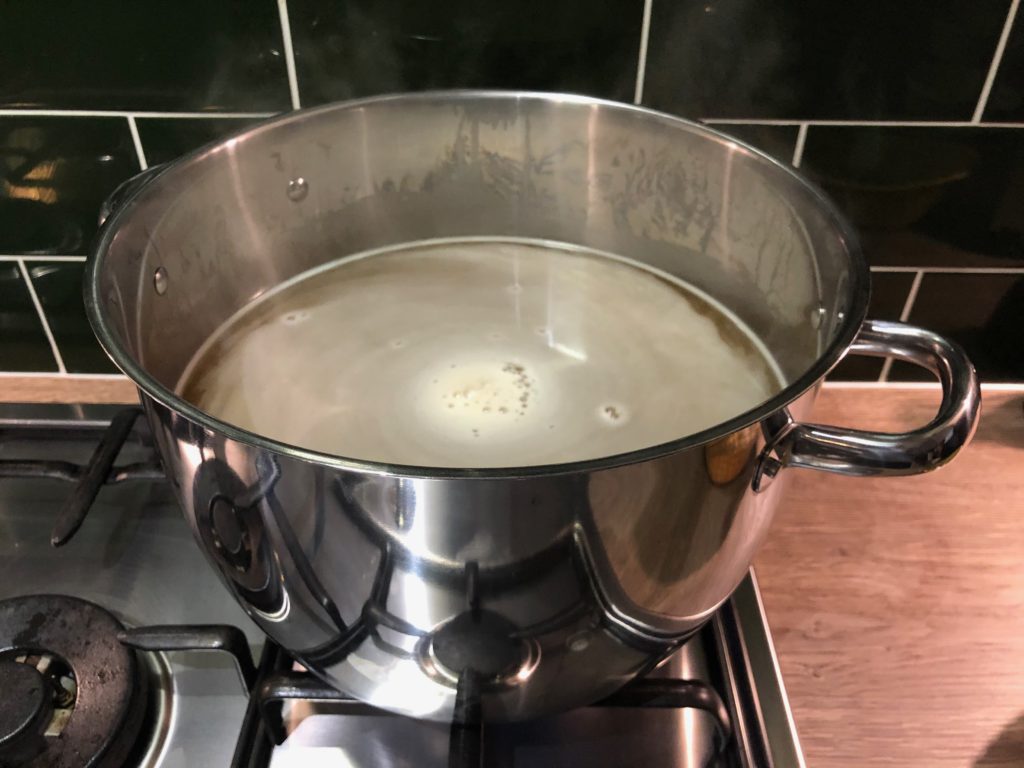 Add the hops as follows:
Add 5 pellets of Ahtanum Hops at start of boil 
Add 2/3 Chinook Hops and 3/5 remaining Ahtanum Hops 45 minutes into the boil 
At 60 minutes, turn off heat – Add remaining hops.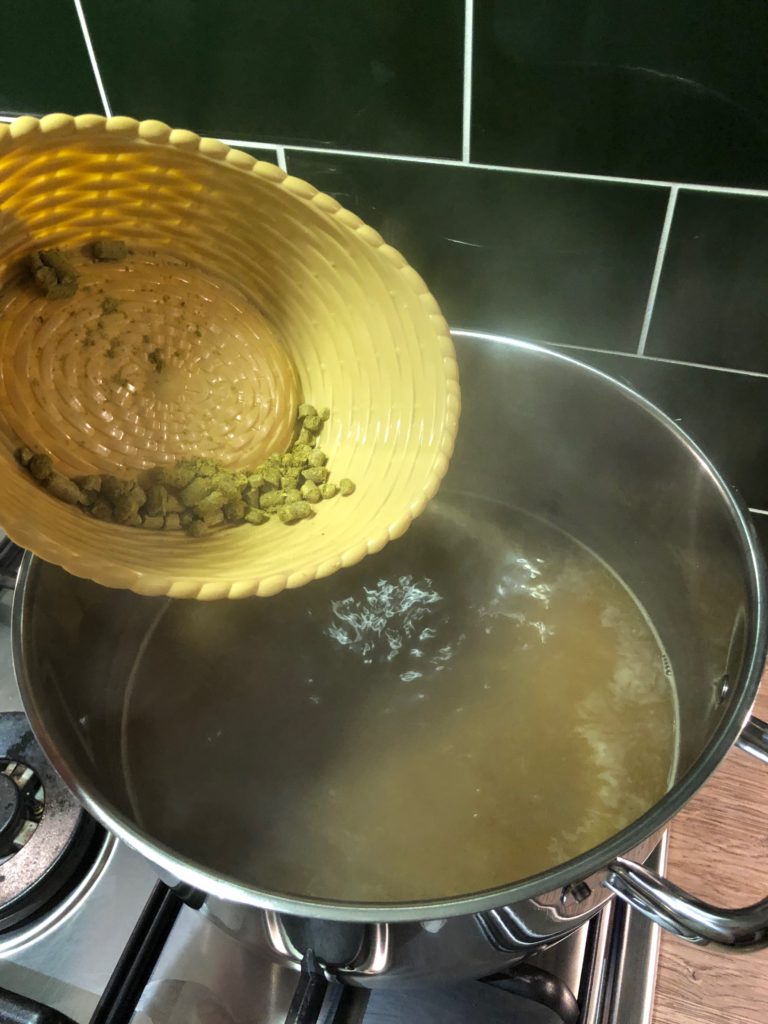 Once the boil is complete, take the pot of the heat. You want to cool the liquid down to an ambient temperature. You can do this naturally if you have time. Or use an ice batch of a kitchen sink with cold water.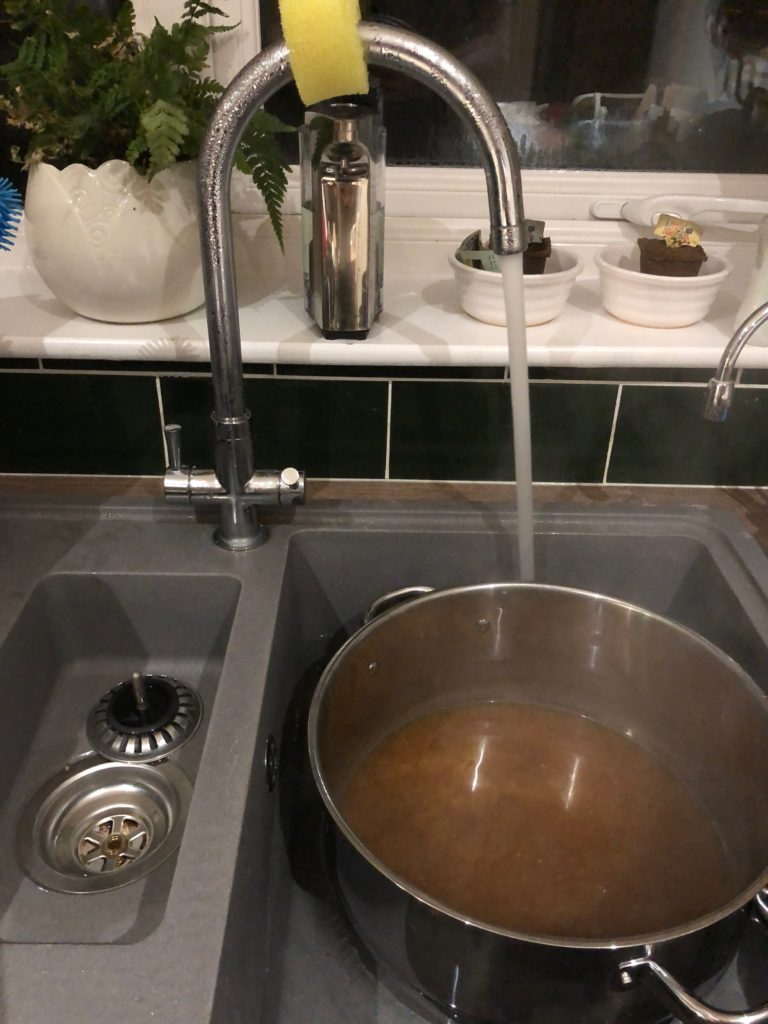 Use a filter with a fine mesh to filter the solids out and fill the glass fermenter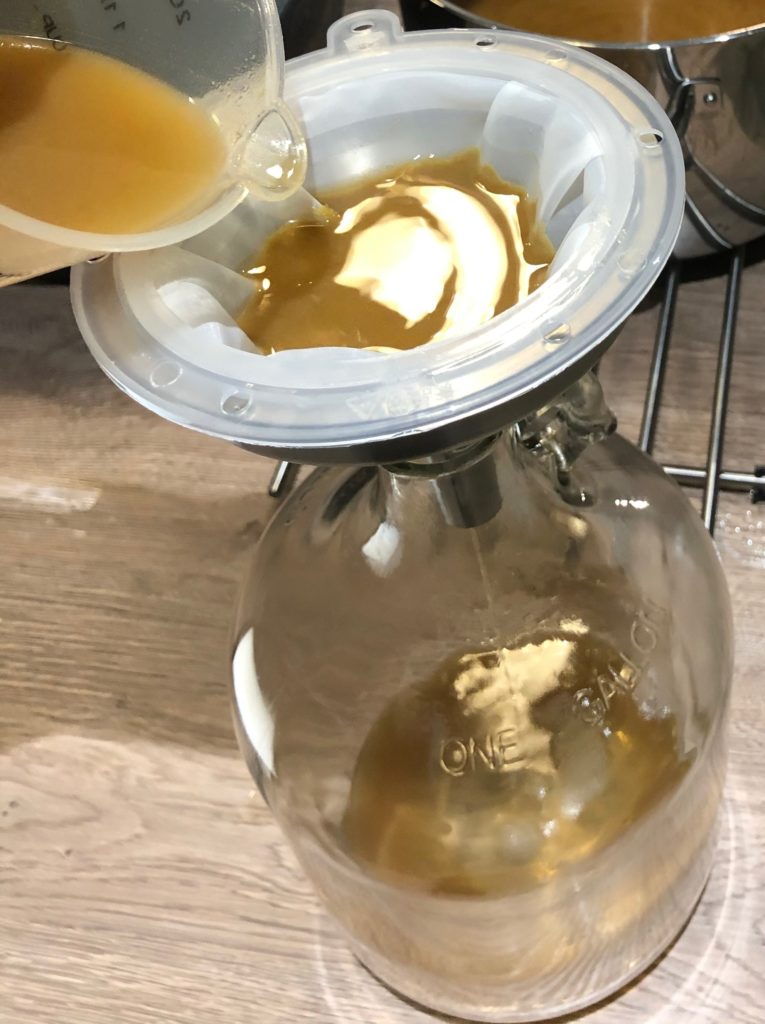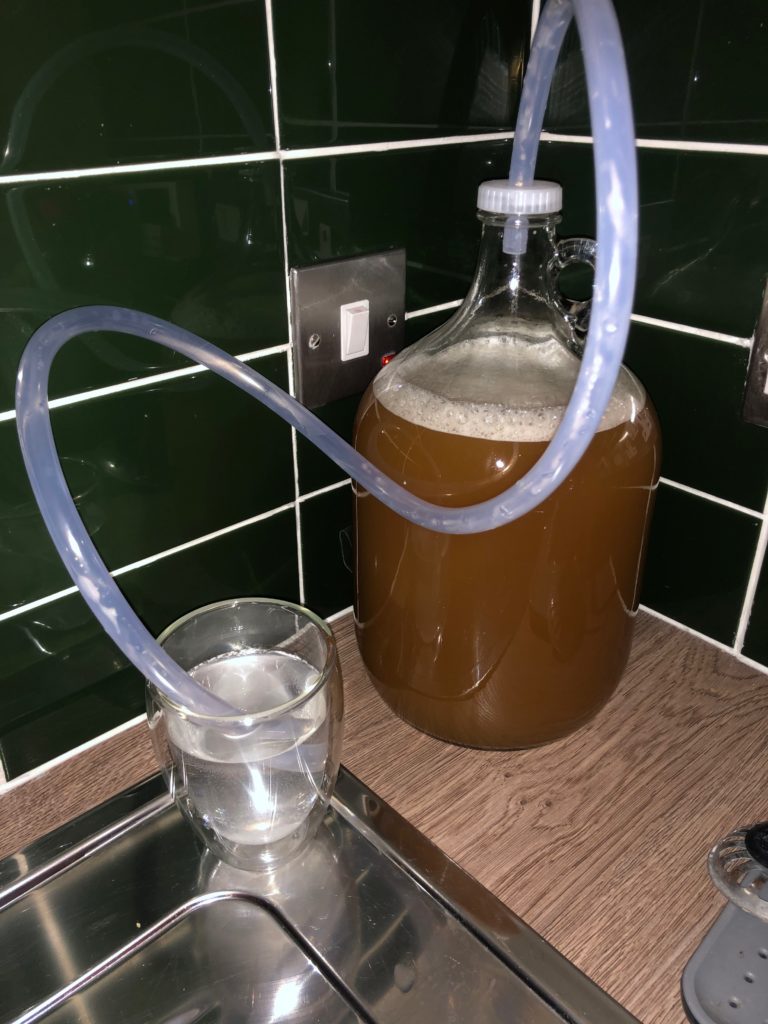 Lessons Learnt
Things I learned and would have done 'better' if given second chance.Depending on how it turns out at the end, this second chance my come sooner than I think.
The filter used to was (in hindsight) a bit small for the job
The job of the filter is to collect solids, but this collect so much that it would stop letting liquid pass through at all
Pots, could easily have done with another 1 or 2
The main process could take 3 or 4 hours so make sure you start this early evening if you want to get to bed before midnight.
There is quite a lot of evaporated water hence condensation it the room so make sure you have extractor fans on and windows open if the climateoutside permits.
Bottling
Coming Soon…
Drinking
Coming Soon…