LG Washing Machines, Drying Machines and Washer Dryers will display various error codes when things out of the ordinary happen. The table below is a quick and simple way to figure out what a particular error code means and what the likely resolution is for that code.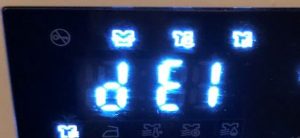 Error Code
Description
Resolution(s)
dE1
Door Open Error
Close the door or open/close door firmly
dE2
Door Closed But Not Locking Error
Open/close door firmly
UE
Unbalance Error
Rearrange load
Add another item (heavy item?) to balance the load
Make sure the machine is level
DE
Drain Error
Clean the drain filter
CL
Child Lock On
Disable Child lock. Look for the Child lock button and hold it until the child lock is switched off
Cd
Cooling Down
Not an error as such. The machine is finished its cycle but is cooling down while it waits for you. You can press and hold any button to unlock the door
IE
Washer unable to fill with water
Water inlet screen needs cleaning, or hose is kinked
OE
Washer is unable to drain the water it used during the wash cycle
Check for kinked drain hose
t CL
Tub Clean Cycle
You need to run the Tub Clean Cycle
If you know of any other LG Error codes, let us know in the comments below.